3 Difficulties Students Face While Preparing for CLP During MCO (and Possible Solutions)
If you enjoyed reading this article, feel free to click here for more similar content. Till then, enjoy the read!
17th March 2020. That was the day we attended Mr. Tan's Land Law tutorials.
Later that night, the Government announced that a Movement Control Order (MCO) would start from the 18th of March. Since then, we had two extensions over the course of one and a half months.
'Remember to tune in the news and see what the Government has to say'.
Those were Mr. Tan's final parting words to us as he left the room urgently, with a worried look.
The best gif to reenact what happened that day.
Since then, the pandemic grew worse. The number of cases peaked during the 2nd phase of the MCO. With that, our CLP provider (Brickfields Asia College) saw the need to deliver our classes online through Zoom, a video conferencing software.
Therefore, we had to Study From Home (yes, I was inspired by the phrase Work From Home) since the MCO started. Aside from the uncharacteristic silence from the Legal Profession Qualifying Board (LPQB), studying from home has brought certain challenges to those preparing for the exams.
Me after a 6 hour of online classes.
Here were some of the struggles I faced while I was studying from home:
CHALLENGES


Being Uncertain, Worried and Anxious


All CLP candidates are required to file in their documents to register for the exams during November/December. Once your registration has been processed and you have paid the prescribed fee, all you had to do was to wait for LPQB to issue an offer.
Note: LPQB are the people who are in charge of the CLP exams
Due to our current predicament and novelty of the whole situation, LPQB announced that they would only be able to decide on the relevant exam dates once the MCO has been lifted [1]. Furthermore, CLP candidates who had received their offers were not given an extension to defer their payments for the exams.
With these factors, there was nothing we could do aside from waiting for LPQB to announce the exam dates. This does add a sense of uncertainty and gloom as we try to focus on our studies.
Online Classes Can Be Demotivating and Tiring


As mentioned, BAC has switched to deliver their classes online via Zoom due to the MCO. While this is a good move to ensure that our education remains unaffected, I must say that online classes are not a great substitute for attending physical classes. [2]
These online classes take away the discipline of attending classes. As such, the guilt of skipping classes is not present as these classes would be recorded and made available after the live session conclude.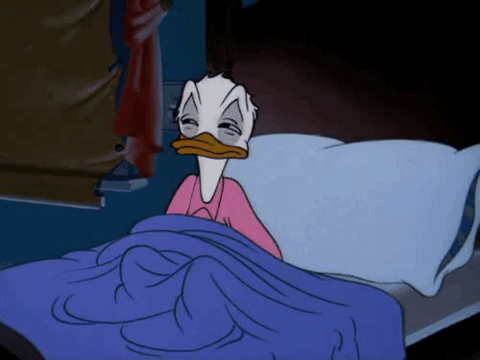 'Got class tomorrow ah? Sleep first lah, then listen later.'
Furthermore, I found it difficult to concentrate in online classes. The Internet is filled with distractions and students have tried to entertain themselves by posting hilarious questions and comments to the lecturer in the QnA Sections.
In a few instances, there were technical difficulties that made it difficult for the lecturer to gauge as to whether students were able to understand the lessons delivered. Occasionally, we will miss a few things due to a poor Internet connection.
Our reaction whenever we missed out something in 'class'.
These issues make it difficult for us to learn in an online space. Overall, online classes require more self-motivation.
Home Is Where Distraction Are At.


Whether it is that PlayStation lying beside your study desk, that Steam in your laptop or your family, there are so many things to do besides studying at home.
Let us say you have overcome your anxiety in sitting for an exam (which you have no idea when it will be held) and garnered enough self-motivation to study. Suddenly, you hear:
Boy! Come down now. Lunch is ready.
Take out the trash now.
Come and spend time with us. You need to take a break.
Here we go again.
Of course, you do owe a duty to yourself to ensure that you eliminate the possibility of these distractions which you reasonably foresee. You could make it clear to your parents that your study time does not clash with their 'break' or 'chore' time.
This does not disregard the fact that most of your family are likely stuck at home working or spending their leisure time. For instance, my brother works as a customer service agent and he talks really loud, which can be distracting when I am in the middle of my class inside my room.
So long as these distractions are present, studying from home can be detrimental and an ineffective way of studying.
SOLUTIONS


There are a few immediate steps you can take to remedy your situation. You could:
Have a dedicated studying space


An independent studying space helps to separate you from your distractions at home. This would be helpful if you have family or siblings who are working from home as a study space helps you to concentrate and do your work effectively.
Try your best to keep your study space neat. Here are some essential study space items I have which have helped to create my ideal studying space:
Notepads – these are helpful as I can write down any information I need in an organized manner

My laptop

An external mouse

Sticky notes

Sticky tabs

Adequate writing materials (the more, the better)

A good chair

Files and Folders to organize my notes
This is an example of my study desk (which is as organized as it gets). I use a lot of folders and segregate my notes accordingly. I do keep sticky tabs and notes on the side to help me to organize my stuff as well.
Take regular breaks


Naturally, CLP classes can stretch over a long period of time due to the convenient nature of online classes and the need to finish our CLP syllabus on time. On days when we do not have classes, CLP students would usually revise the learning materials in their own time.
Hence, it is best that you take breaks at regular intervals. Have a light stretch after sitting for a whole day or take a quick break watching Youtube videos after completing a certain amount of Chapters for the day.
Who does this after they been sitting down for a long period fo time? I know I do.